About The Stowehof
Get to Know Our Stowe Vermont Hotel
Find yourself surrounded by 26 acres of incredible mountain vistas at one of the most notable of Vermont's classic Alpine hotels. Rustic and sophisticated, The Stowehof offers an experience unlike any other, and our long history of happy guests can vouch for that.
Amenities
High speed Wi-Fi throughout the property
Complimentary coffee and tea
Onsite restaurant and bar
Indoor pool and sauna
Outdoor pool
Beach volleyball and shuffleboard
Outdoor fire pit and multiple indoor fireplaces
ADA Accessibility & Features, Learn More
Bring Fido


we're pet friendly
Why should your four-legged family members miss out? At The Stowehof, they don't have to. We offer a limited number of canine friendly rooms. For an additional $25, plus tax, per dog per night, your canine companion will be welcomed to your room with two complimentary pet cookies.
Community Partnerships
STOWE LAND TRUST
The Stowehof is a proud member of the Stowe Land Trust's Hotel Partnership Program, which gives guests an easy way to give back to Stowe so that it will always remain a special place to visit. For every night's stay, The Stowehof gives a $1 nightly donation to Stowe Land Trust. These voluntary donations are used to support the SLT's work to conserve Stowe's important natural resources.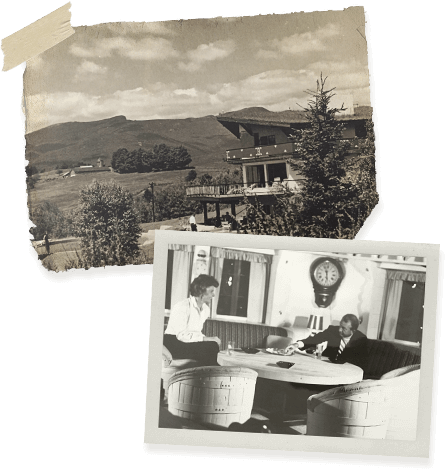 Our proud
Stowehof history

1945
The story of The Stowehof begins in the summer of 1945. While on vacation in Stowe, the burgeoning Ski Capital of the East, architect Larry Hess comes upon a beautiful mountain hilltop. He takes in the magnificent view of Stowe Valley and recognizes the location's potential.
1949 / 1950
It's settled. Hess is ready to build The Stowehof, and his plan is a progressive one for the time: reclaim, recycle, repurpose.
1968
Hess sells the thriving business to C.V. Starr, founder of the insurance giant known today as A.I.G. Starr, who plans to use The Stowehof as a retreat for his friends and executive personnel. They have their fun, and eventually the Mt. Mansfield Company takes over operation of The Stowehof as a hotel. The property is ultimately sold to Peter Bartholemew, a long time employee of Starr's.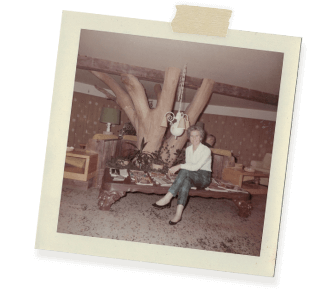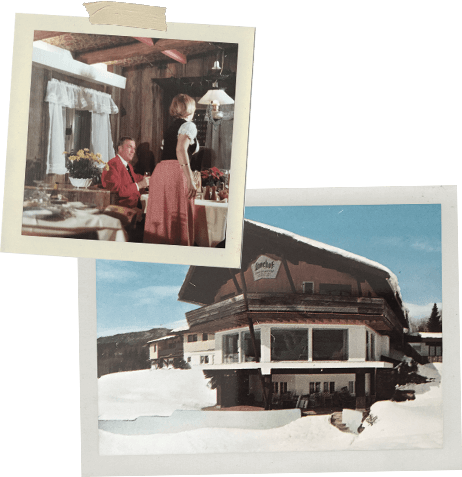 1980
Fritz Wiessner, an illustrious pioneer of free climbing, was once a neighbor of The Stowehof, but in the 1980s, he decides he loves The Stowehof enough to make it his permanent residence. He later goes on to donate the Wiessner Woods to the Stowe Land Trust. As a result, guests can take advantage of snowshoeing, cross-country skiing, dog-walking, and hiking through the woods.
2016
The property is restored to its former luster while incorporating enhancements and updates. The Stowehof lives on.
A few of our friends'
Testimonials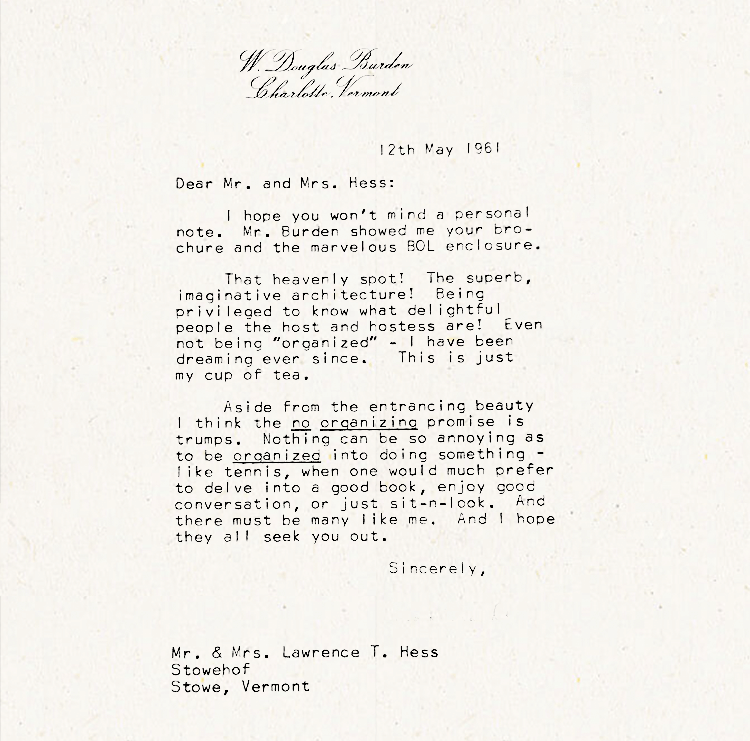 A few of our friends'
Testimonials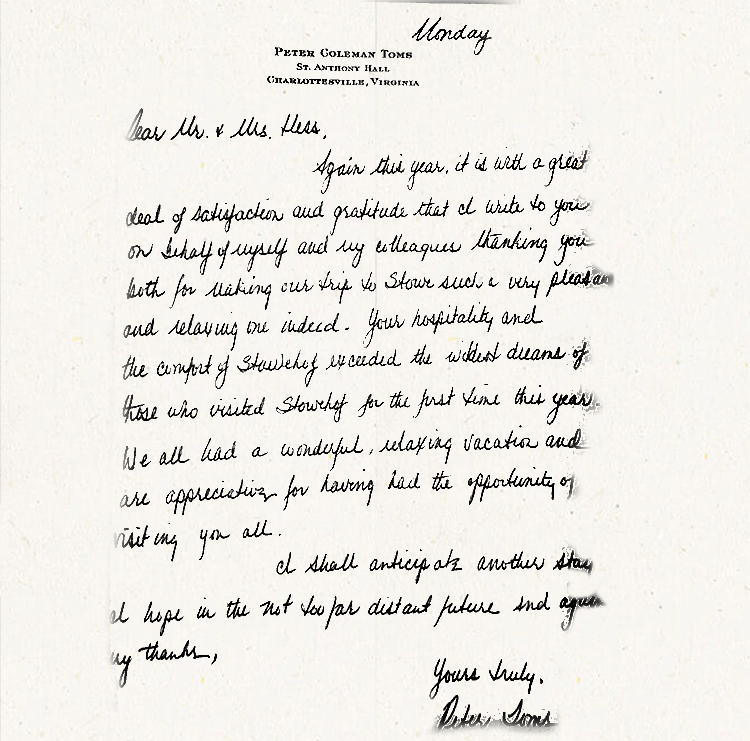 A few of our friends'
Testimonials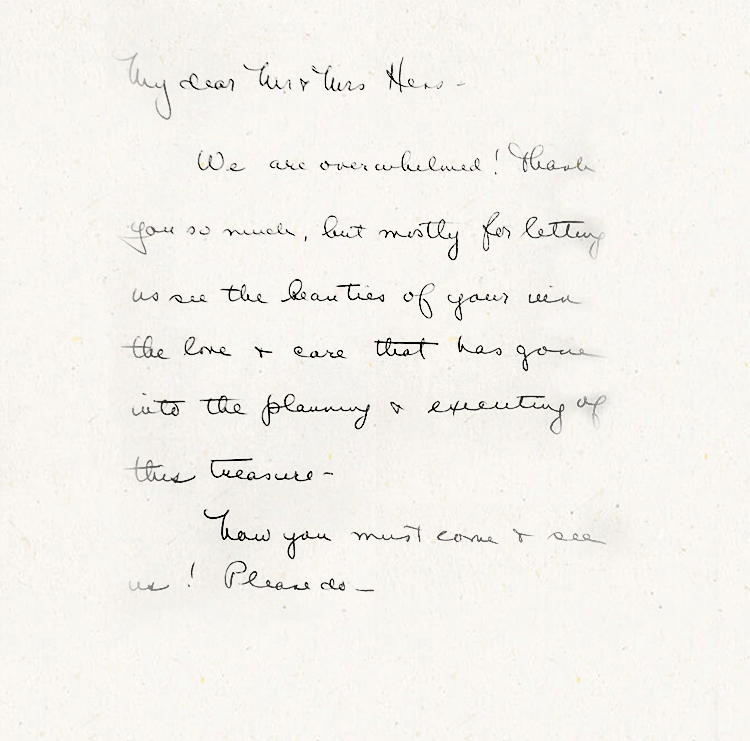 A few of our friends'
Testimonials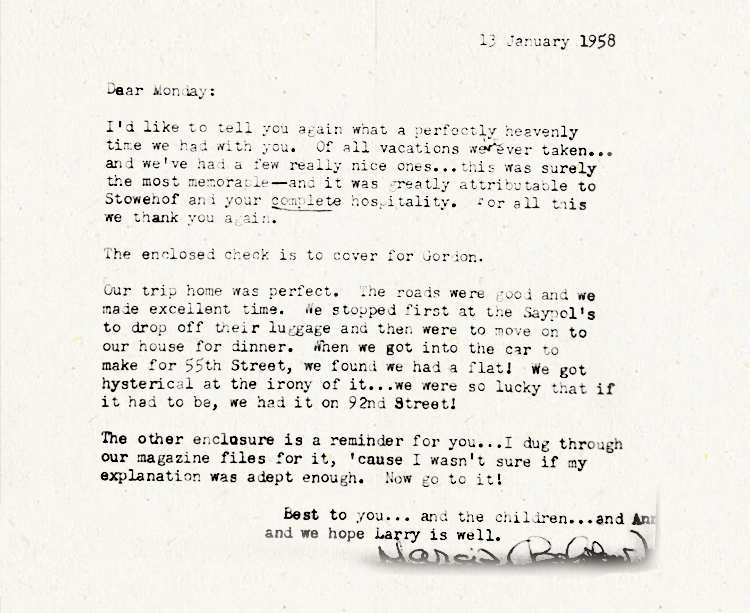 Stowehof in one word
Gemütlichkeit
A space or state of warmth, friendliness and good cheer